When your job is printed at a commercial printer, one of the biggest decisions you can make that will have a huge impact on the cost and presentation of your book or magazine is binding. Luckily, most printers are very knowledgeable about this subject and usually steer you in the right direction when it comes to choosing a binding method that is appropriate for your job. Nonetheless, it's always a good idea to know what options are available to you and to understand the pros and cons of each method. So get your learning cap on and let's talk about binding!
What is Binding?
Binding, much like it sounds, is the method used to bind the pages of a print job together. There are many different methods of binding, but we're going to concentrate on the three most popular methods: Saddle Stitch, Perfect Bound and Spiral Bound.
Saddle Stitch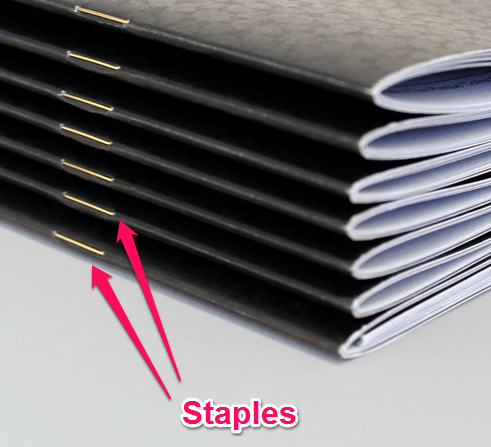 Without a doubt, saddle stitch is the most common, popular and economic binding method available. When a job is saddle stitched, folded sheets are gathered together with sheets nested inside one another from the center to the cover and stapled through the fold line with wire staples. Saddle stitch is commonly used in magazines, periodicals, programs or other booklets where economy is a priority. Because of the way the pages are nested, the material build-up causes a shift in the pages known as a "creep." This creeping of the nested sheets causes pages to get slightly smaller as you approach the center of the book after it has been trimmed. Also, the more pages there are, the more likely the staples will not hold and the more difficult they will become to staple. For these reasons, it is usually not a good idea to saddle stitch a book or booklet with more than 64 pages or so.
Perfect Bound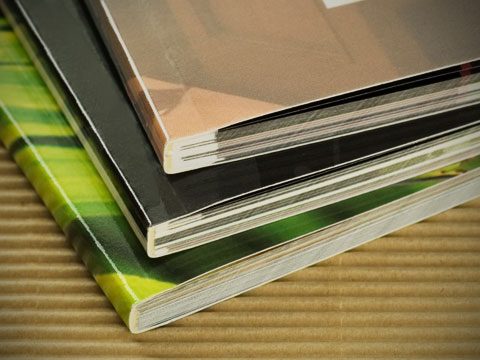 Another popular binding method, perfect bound is the method of choice for most of the soft cover books you see at book stores, manuals & technical guides, catalogs and any other book larger than 64 pages where economy is a concern. Perfect bound books have a heavy stock cover with a flat printed spine to which the enclosed pages are glued. When compared with saddle stitching, perfect bound books tend to have a cleaner, more professional appearance. All of the pages are the same length, and they are cut flush with the cover. The caveat of perfect bound books is they can be difficult to lay flat, and can wear with heavy use.
Spiral Bound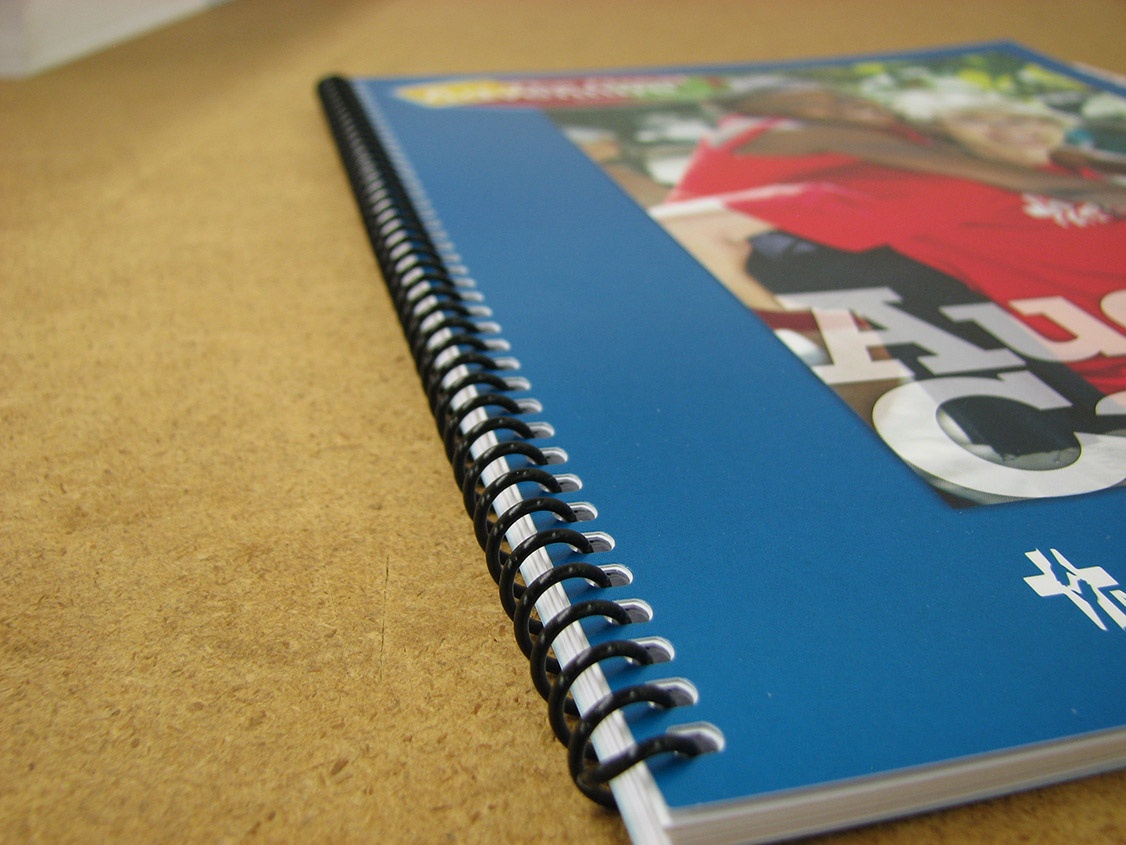 Spiral binding, also known as coil binding, is a method of binding that joins the pages and cover of a book together with a durable plastic or metal coil. Popular with textbooks, reports, notebooks and cookbooks, spiral binding allows all of the pages of a book to easily open a full 360°, saving desk space and making it a perfect choice for books that need to be left open "hands-free." This makes it a perfect choice for any book that will be used as a reference of some sort.
There are several other binding methods available as well, such as Comb Bound, VeloBind, Loose Leaf, Side Stitch, Double Loop, Sewn Cover, Hard Cover and much more. Talk with your service provider to find out what types of binding they can offer and how they will work with your book, booklet or magazine.
Or if you can always ask us right now by hitting that "Talk to an Expert" button below!