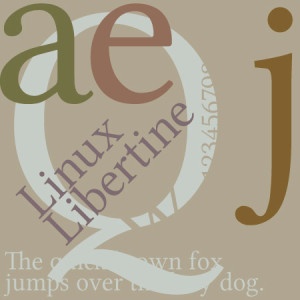 Designed as an open source alternative to commonly used proprietary fonts such as Times Roman, Linux Libertine is one of the few completely free and truly open-sourced font families in existence, and also one of the most popular. From start to finish, Linux Libertine is the apex of open sourced: from its creation in Font Forge (the free font editor) to it's GNU General Public and SIL Open Font Licenses.
Designed by the Libertine Open Fonts Project and released in July of 2012, both Linux Libertine and Linux Biolinum were bundled with LibreOffice, the default office suite in many Linux Distributions such as Ubuntu, Fedora, OpenSUSE and Linux Mint. Despite being a freely available and relatively new typeface, Linux Libertine boasts an impressive 2,000+ glyphs encompassing the Greek, Cryllic and Hebrew Alphabets and several ligatures and special characters.
Linux Libertine is a proportional serif typeface inspired by 19th century book type, and at present it comes in five styles: regular, bold, italic, bold italic, and small capitals. It shares many characteristics with Times Roman, but there are noticeable differences. For example, Linux Libertine sports a slightly more archaic appearance and slighter weights. The serifs are slightly thicker and somewhat more curled, and the font as a whole is a bit more narrow and smaller in appearance.
When to Use Linux Libertine
Because of it's extensive localization capabilities, Linux Libertine is a great choice for text intended for multiple languages. This made Linux Libertine an especially attractive choice for Wikipedia, who adopted Linux Libertine as the open sourced substitute for the Hoefler Text typeface when the Wikipedia logo was redesigned. This made it possible for the Wikipedia logo to be localized in more than 250 languages. Linux Libertine and Linux Biolinum typefaces are also used by the Open Source Libre Graphics Magazine.
In addition to localization, Linux Libertine has some compatibility advantages as well. The typefaces are available in both TrueType and OpenType (and source) and can be installed on Windows, OS X and Linux operating systems, making is it a solid choice for a go-to serif for many projects.
When Not to Use Linux Libertine
Linux Libertine is similar enough to Times Roman to make many of the same design considerations mentioned in our previous article about that font. Linux Libertine is a slightly more attractive font than Times Roman, but it is still more of an emotionally neutral reading font. In most situations where you wouldn't use Times Roman, don't use Linux Libertine, and if the project does call for a font like Times Roman, consider using Linux Libertine instead. You can download all of the font families and formats at www.linuxlibertine.org absolutely free of charge.
As always, just use your best judgement when deciding whether or not Linux Libertine is appropriate for your design's message and audience.